Music & Mosaics Concerts
Philadelphia's Magic Gardens is excited to announce that the Music & Mosaic Concert Series is morphing into Twilight in the Gardens - a fantastic new program that will get your feet tapping and your creative juices flowing! Click here to learn more!
The Music & Mosaic Concert Series aimed to inspire creativity through music and performance based art. Hosted every fourth Saturday from April through October, it featured a wide array of performances including blue grass, bossa nova, indie rock, classical, gypsy, jazz, hip hop, puppetry, interactive dance classes and more! Our new Twilight in the Gardens will seek to include the same diversity in its music and performances as well, so be sure to check them out!
2012 Season:
October 2012 - Creole/Haitian inspired "Day of the Dead"
Murmuration is a Philadelphia-based band specializing in improvisation. Although their sound is usually on the classical side, for this concert they took a turn towards the creepy, incorporating their saxophone, clarinet and keyboard sounds into spine-tingling beats.
Toby David is the host of The Weekly Revue, a monthly "curated variety show" featuring local artists and performers, that strives to provide a shared, participatory experience for the audience and actors alike. For PMG's October concert, he assumed the role of voodoo god Baron Samedi, who is known for his debauchery and penchant for rum.
Ana Vizcarra Rankin is a Uruguayan American artist with a proclivity for all things beautiful and fun. Her work includes photography, prints, drawings, paintings, and site specific installations that, in her words, "explore the role of mysticism and mythology in our everyday lives." Rankin did a site-specific installation for this concert and involved visitors in the creation of potato-print skulls.
September 2012 - Country-Infusion
Umer Piracha was raised in Multan, Pakistan but currently calls Philadelphia home. In addition to being a singer/songwriter, he is also a composer and guitarist.
The Best Westerns call themselves a "true rock n' roll story." This band features members of other great Philadelphia music groups: Conversations with Enemies, The Really Cooks and The Wayfairs.
August 2012 - "Drag-prov"
Messapotamia Lafae is a post-gender surrealist, shapeshifter, and sartorialist. She performs with the Dumpsta Players and continues to work independently as a multi-media performance artist and dance filmmaker. She is committed to empowering queer, gender-variant, and trans-identified persons to express themselves and share her post-gender sartorial sensibility to raise the bar for style and fashion in Philly.
Alaya Richman is the alter-ego of artist Lance Pawling - a performance and installation artist known for his work with the improvisational theater group Dumpsta Players. Having put on several theatrical shows at PMG in the past, Alaya seeks to bring even more laughs and cheers to the stage this time around.
Mark Zelesky (Wurli) is a musician and librarian from Chicago. While his initial training focused on concert saxophone, he has since expanded his arsenal to include everything from electric piano to reed organ. In his music, he explores the intersection of '60s and '70s avant-garde, contemporary popular and classical music, and jazz. He also performs with Beta Test and Murmuration, a group that specializes in improvised classical music, playing saxophones, clarinet, and keyboards.
July 2012 - ART/GAGE Street Festival!
July's edition of the Music & Mosaic Concert Series was taken over by PMG's annual ART/GAGE: Celebrate Philadelphia Creativity Festival! On July 28 there was a great line-up of musicians that performed all day and night for a packed crowd! Check out the schedule below, and also see our Upcoming Events page for more information on this awesome street festival!
Daytime Street Fair Admission: FREE
12:15

Hot Bijouxx

- a lively swing, hot jazz, gypsy band playing music from the 1920

′

s and 1930

′

s


1:00

Ollin Yoliztli Calmecac

-

a group of Mexican immigrants performing a number of traditional dances celebrating Aztec culture.

2:00

Swift Technique

-

an energetic seven-piece jazz, funk, hip-hop and rock band persuading listeners of all ages to dance


2:50

Rock to the Future

–Six extremely talented teenagers from North Philadelphia show off their rocking skills

3:45

The Really Cooks

-

a half-human, half-cartoon band that mix late period British '60s pop with a quirky American show-tune aesthetic, crafting fun, energetic pop tunes

4: 35

Traditional Bhutanese Dancers

– a talented group that will demonstrate the intricate dances of Bhutan culture.
Evening Admission:
$12 to enter, $15 with complementary drinks provided by Fergie's Pub, Spodee and Narragansett Beer Company; Bring Your Own Blankets and Beverages!

June 2012 -
Laser Background

,

Folklore

, and

Buffalo Stance

.
Laser Background, named after the hideously charming 90s school picture theme of the same name, is a new project of Philly musician Andy Molholt, formerly of The Armchairs. They describestheir music as "psychedelic pop from deep space."
Folklore, a personal project of Elf Power guitarist Jimmy Hughes, evokes spirits of the past using ghostly poetic lyrics and a vast array of instruments. Folklore captures audiences with their fantastical "bedtime stories."
Buffalo Stance layers its slightly twisted tunes with psychedelics, pop, techno, and jazz to create a part hallucinogenic and part "dance-your-pants-off" feel.

May 2012 - Genre-Bending Bands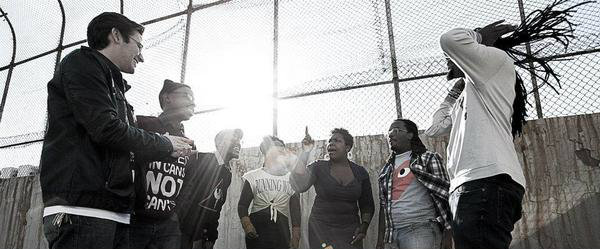 Lady features disarmingly soulful vocals of Kate Foust with the grooves from the supporting drummer and bassist, along with soaring violin melodies. Their sounds have been labled as vivid, haunting, and bold.
The 20Somethings are a music collective comprised of rising independent vocal artists, songwriters, and musicians. Inspired by the mantra "Get Free", the 20Somethings bring a unique, contagious, energy to the music scene.
Josiah Wise Godbodi's music is described as a healthy mix of "rock, jazz, gospel, experimental or Afro-futurist."
April 2012 - Del Pasado al Presente
Ollin Yoliztli Calmecac, founded in 2003, aims to raise awareness of Mexicayotl culture through dance, music, art and educational programming. Brujo De La Mancha, a multidisciplinary, self-taught artist from Mexico City, will lead the performers in ritualistic dance.
Tonantzin Coatilcue, fittingly named after the Aztec goddess of life, death, and rebirth, is a Concheros dance group of teenage girls and young women who have emigrated from Mexico to the Philadelphia Area.

Grupa Cuestion Nortena is a lively Mexican band with an accordion, guitar, bajo sexton ("Sixth Bass") and percussion instruments. Nortena, a mix of Spanish and eastern European music, is a genre of Mexican music.